Programme Nationaal Congres Engels 2024
Friday 22 March 2024, de Reehorst, Ede
'THE ALL-INCLUSIVE ENGLISH CLASSROOM?'
Task engagement in the English language classroom
Linda Gijsen
English Language Teaching (ELT) should arguably primarily involve preparing learners for using the language as a lingua franca in real world communication. Consequently, educating learners to become communicatively competent users of English in international and intercultural communication has implications for the way in which English language learning activities should be organised and how we want learners to engage with tasks in an all-inclusive language learning context. Although in theory an intercultural communicative orientation should be anchored in many ELT curricula, in practice, many classroom-based interactions still primarily evolve around native-speaker language expressions and do not expand on learners' existing socio-cultural and mulitilingual repertoire. In this presentation, I will examine how technology in the form of virtual pedagogical lingua franca exchange can be used to manage linguistic diversity and foster engagement in the ELT classroom.

Read more »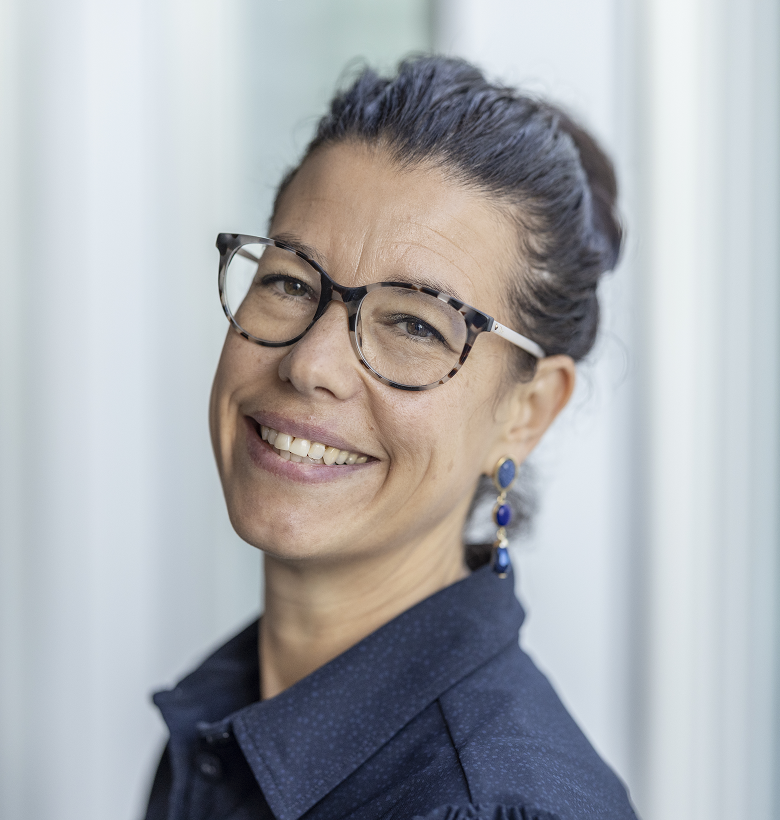 PROGRAMME
| | |
| --- | --- |
| 08.30-09.30 | Arrival at the conference centre / coffee / exhibition - New York |
| 09.30-09.35 | Introduction |
| 09.35-10.35 | Plenary session: Linda Gijsen - Schouwburg |
| 10.35-11.00 | Herman Wekker prize for Best Reporter - Schouwburg |
| 11.00-11.30 | Coffee break / exhibition - New York |
| 11.30-12.30 | Workshop session 1 (1-14) |
| 12.30-13.30 | Lunch / exhibition - New York |
| 13.30-14.30 | Subplenaries: A B C D |
| 14.30-15.00 | Tea break / exhibition - New york |
| 15.00-16.00 | Workshop session 2 (15-28) |
| 16.00-17.00 | Exhibition / Meet & Greet with our speakers / Drinks & Nibbles (free!) - New York |
Subplenaries
| 13.30 - 14.30
Daniela Fasoglio (SLO)
A. New examination programmes for English coming soon: ambitions and challenges
The time has finally come: English gets new, more up-to-date examination programmes for pre-vocational, general, and pre-university education. The examination programmes are more concrete and specifically focused on English. The underlying ambition is high: to help students develop into language-proficient, culture-aware and language-aware citizens in today's society. Who are today's students? To what extent can the new examination programmes facilitate and support education for a diverse population? What will be the task of the school and the teacher? What will be entrusted to the curricular freedom and responsibility of the teacher? And what does the teacher then need? This presentation shows some of the contents of the draft English examination programmes and addresses these questions. With a fundamental consideration: what problems can the national curriculum solve (not, or not now)? Daniela Fasoglio is a modern language specialist at the national expertise centre for curriculum development SLO. As a curriculum expert, she is a member of the Commission in charge of developing the new modern language examinations programmes for Dutch education. She is concerned with issues such as the use of the CEFR, the integration of culture in language curricula, literature education and plurilingualism.
Amos Paran (University College London)
B. Democracy and choice in EFL reading and literature classrooms
Education for democracy in the EFL classroom exemplifies a values orientation which is aligned with the work of Graham Crookes in EFL and Martha Nussbaum in humanities education, and is in opposition to instrumental views of EFL, where language is monetized and becomes a tool for financial gain. In a post-truth world where democracies are steadily weakening, this presents teachers with greater challenges and responsibilities than ever before. Many language curricula include values and citizenship. However, such imperatives must be accompanied by principled pedagogies consistently implemented. In this talk, I illustrate how such pedagogies can be realised, focusing on teaching reading and using literary texts in EFL. I highlight four important pedagogical principles: the principle of choice; the principled teaching of critical thinking; a participatory approach to teaching literature and reading; and a focus on understanding the Other. These pedagogies model democratic behaviours for the pupils in a non-directive sense Amos Paran is Professor of TESOL at the IoE, UCL's Faculty of Education and Society. His professional roots are his work as a secondary school EFL teacher in Israel, as a materials writer, and as a teacher educator in three continents. His latest books are Becoming a Reading Teacher and Taking Literature and Language Teaching Online.
Joelle Taylor
C. C+NTO & Othered Poems
Reading from her TS Eliot Prize winning collection, Joelle Taylor enters the private lives of women from the butch counterculture, telling the inside story of the protest they led in the late 1980s and 1990s to reclaim their bodies as their own, the difficult dance between survival and self-expression. History, Magic, rebellion, party, and sermon vibrate through the cantos to uncover these underground communities forged by women. A love poem, a late night, and an honouring. Joelle Taylor is the author of 4 collections of poetry. Her most recent collection C+NTO & Othered Poems won the 2021 T.S Eliot Prize, and the 2022 Polari Book Prize. Her novel The Night Alphabet will be published in 2024. She is a Fellow of the Royal Society of Literature, and the 2022 Saboteur Spoken Word Artist of the Year.
Kirsten Waechter (Tailored Trainings)
D. Making materials (that) matter – representing diversity in the ELT classroom
Teaching in a diverse classroom means creating an atmosphere of belonging and inclusion where students feel comfortable. For that, we need to create an environment in which diversity is represented in materials. Such visibility will help students to see diversity as something normal and share their own stories of diversity. As English is such a diversely used global language, the ELT classroom is the perfect vehicle for it. However, looking at materials for the ELT classroom, we can see that many of our learners lack representation. Moreover, ethnicity, sexuality, religion etc. are seen as taboo topics. To represent diversity, we need images where visible diversity is involved, and stories where invisible diversity is involved that cannot be represented in pictures. This sub-plenary, explores what materials already exist, and how teachers can easily create and adapt materials. In addition, we explore how storytelling can help our learners find their voice in English: without their input, no inclusive classroom will be possible. Kirsten Waechter focuses on teaching business communication, English for special and academic purposes and intercultural courses. She designs her own materials (print and online) and provides teacher training, too. She is also a translator and writer and has authored guidebooks on business skills.
havo
vwo
mbo
hbo
adult
English
WORKSHOPS
28 Promoting human rights, gender equality, and appreciation of cultural diversity
Cornée van der Wind-Ferreira (Driestar Hogeschool)
Results of a recent Dutch study indicate that though English teachers strive to work towards sustainable development goals (incl. appreciation of diversity) in their lessons, they often experience difficulties in reaching these aims. This workshop will include practical ideas to overcome such diffic
3 Taalprofielen Revisited!
Daniela Fasoglio & Stéfanie Leunissen (SLO)
In 2020 heeft De Raad van Europa het ERK geactualiseerd. Tijd dus voor een nieuwe editie van Taalprofielen! Een introductie van de inhoud en het praktijkgerichte (digitale) gebruik. Taalprofielen zal een belangrijke rol spelen in het beproeven van de nieuwe examenprogramma's, waarin ook de beheersin
2 Poetry in/for an inclusive EFL classroom
Ruud van den Beuken & Chris Cusack (Radboud University)
This workshop focuses on the use of poetry for fostering equality, diversity, and inclusion in the English classroom. Considering poets such as Joelle Taylor (see subplenary), Andrew McMillan, Caroline Bird, and Anthony Joseph, we will explore how poems can be mobilised for facilitating conversation
1 Diverse models and diverse learners: pronunciation teaching and testing
Janine Berns & Sanne van Vuuren (Radboud University)
This workshop sketches the evolution of normativity in modern foreign language (MFL) pronunciation teaching. Together with the audience, we will explore topics such as intelligibility vs. normativity, the position of English vs. other MFLs, learners' varying language learning needs, and possibilitie